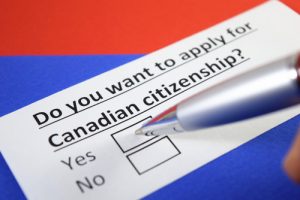 In order to apply for your citizenship, you must determine whether or not you are able to do so. There are 5 basic categories that are required in order to apply.
1. Age
You must be 18 years of age or older to apply for citizenship.
2. Permanent Residence
You must have resided in Canada for 3 years or 1095 days in the past 4 years. You may be able to count the days you spent in Canada prior to becoming a permanent resident.
3. Language Abilities
Canada has 2 official languages, English and French. It is imperative that you know one of these languages. If you are between the ages of 18 and 54 you will require proof of your ability to understand of speak either of these languages.
4. Criminal History
The following are a list of reasons why one would not be able to apply for citizenship:
If you have been convicted in the last 3 years
If you have been currently charged
If you are in prison
Under removal order
Under investigation for a crime
If you had 3 citizenships taken away from you within the last 5 years
5. Knowledge Of Canada
To become a citizen of Canada you must demonstrate an understanding of Canadian history and it's values.
Additional Canadian Citizenship Notes:
Please note that processing times are currently 23 months.
You must meet all of the above requirements.
You must provide all of the correct fees.
Citizenship and Immigration Canada will not require you to attend to a hearing or request further documentation such as fingerprints or questionnaires.
Do You Have More Questions Around Applying for Canadian Citizenship?
Please contact us so that we can clarify any possible questions you may have. We are looking forward to our call!