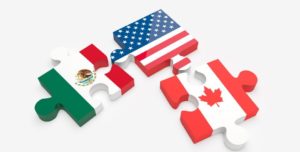 North America Free Trade Agreement (NAFTA)
If you are a business professional and need to gain access to Canada for business reasons or work you are in luck!  There is an agreement called NAFTA which allows citizens of Mexico and the U.S to enter Canada for business purposes.
If you are covered by NAFTA you do not need an LMO. If you are applying under NAFTA your job offer does not need to be approved in order to be hired in Canada.
NAFTA applies to four different categories of business people;
Business Visitors
Professionals
Intra-company transferees
Traders and Investors
[NAFTA is under revision. NAFTA will most likely turn into the USMCA (United States Mexico Canada Agreement). USMCA is expected to be approved at the beginning of 2019. Until then NAFTA will remain active and the visas under NAFTA are still available. Learn more about working in Canada under USMCA.]
Business Visitor
A business visitor is someone who enters into Canada to conduct business and isn't directly employed in Canada. Business Visitors are usually in Canada for a very short period of time. For example, a meeting or conference. However, people here on this visa are able to stay here for up to 6 months. Please note that a business visitor does not need a work visa as they are not directly working for someone in Canada.
NAFTA Professionals
To qualify as a NAFTA professional you must fall into the category of the 60 different professions.  Please contact us if you require information if your occupation falls on this list.
Intra-Company Transferees
If you are applying as an Inter-Company Transferee you must have been working for one full year in the last 3 years for a company either in the United States of America or Mexico. The foreign company and the Canadian company must have a qualified relationship to qualify in this category   This position must also be Executive, Managerial or involves specialized knowledge.
Traders and Investors
If you are a Trader and Investor looking to come to Canada you must hold a substantial amount of trade in-between Canada and the country you are coming from. You must once again be in an Executive, Managerial Position, or a position that requires specialized knowledge. There are other requirements that should also be met by NAFTA.  Please contact us if you require any further information.
Are You Interested in NAFTA/USMCA in 2021?
If so, Contact VisaPlace today. All our cases are handled by competent and experienced immigration professionals who are affiliated with VisaPlace. These professionals consist of lawyers, licensed paralegals, and consultants who work for Niren and Associates an award-winning immigration firm that adheres to the highest standards of client service.
Ready for the next step? Book your 1 on 1 consultation now or call us at 1-888-317-5770.
Have a Question related to your Immigration Needs?
Click here to fill out the FREE Immigration Assessment form below and get a response within 24 hours to see if you're eligible.
The assessment form should take approximately 5-7 minutes to complete. We will get back to you within one business day to let you know if we are able to help.