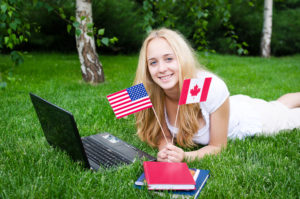 It's that time of year again, and college acceptance letters are beginning to arrive for nervous students who have applied to their institution of choice. Sometimes,that institution is in another country, and Americans and Canadians are more often than not choosing to obtain a Canadian or US student visa to attend school across the border.
Canadian Study Permits for Americans
A new study by the Canadian Embassy shows that 10,000 Americans came to study at 80 universities and colleges in Canada during the current academic year. In a few cases, Canadian educational institutions offer cheaper tuition and more diversity in their course offerings for international students. The Embassy also specified that the average processing time to obtain a Canadian Study Permit is approximately one month.
US Student Visas for Canadian Citizens: The I-20 Form
Canadian students hoping to obtain a US Student Visa to study in the United States will require a Certificate of Eligibility, and this form should be issued by the school in the United States that the Canadian student intends to study at. This form is typically sent directly to the student themselves. This Certificate of Eligibility form (or form I-20) must also be presented every time they enter the United States.
Canadian students intending to study in the United States must show they have the means to pay for their travel, tuition and expenses while within the United States, and this can come in the form of bank statements that are notarized or letters from parents or guardians.
Apply for Your Canadian/US Student Visas or Permits Correctly
All students can benefit by ensuring their Canadian or US student visa applications are prepared properly and submitted to the correct Visa office.  Study Permits are temporary visas and as such student must be able to demonstrate temporary intent in addition to other criteria for a successful application. Of course many students stay long after their studies are completed for work but legally doing so requires careful immigration management.
Do you Need Help With Getting a Study Permit in Canada?
While travelling between the United States and Canada is easier than entering other countries, competition is fierce and an error on your application or accidentally not including all of the necessary information may result in a rejection letter. It is always advised to seek the advice of a immigration lawyer to help you fill your applications for a Canadian or US student visa to avoid rejection letters. Fill out our FREE immigration assessment form and let our team of immigration lawyers assess your eligibility for a Canadian/US student visa.