How Will Trump's Travel-Ban Affect You?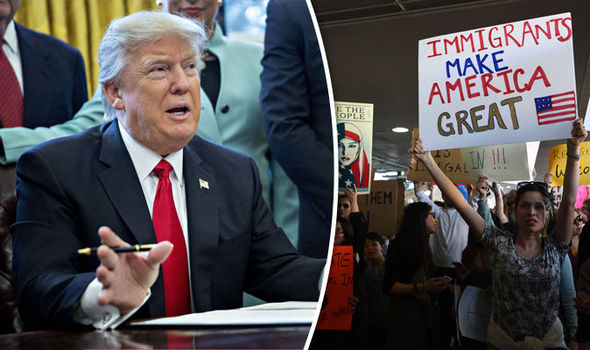 The newly United States President, Donald Trump, has made an executive order to temporarily block entry by citizens of seven Muslim-majority countries. The executive order Trump has issued is titled "Protecting the Nation From Foreign Terrorist Entry Into the United States". This directive has sent confusion onto citizens from the banned countries as well as within the U.S. This executive order has broad immigration consequences for Canada and the world.
Who is being affected by the ban?
The seven Muslim-majority countries: Iranian, Iraqi, Libyan, Somali, Sudanese, Syrian and Yemeni citizens are being significantly affected by denied entry into the United States for the 90-day duration of the executive order. Although April 27th is the end date for the travel ban, Homeland Security Chief John Kelly has rumored that some countries might remain banned indefinitely.
Refugees: All refugee admissions into the United States has a 120-day hold that will end on May 27th. Officials in the United States can still grant waivers in dire case of "undue hardship". Commissioner of the U.S. Customs and Border Protection agency, Kevin McAleenan, said that 872 refugees would be granted waivers under "undue hardship" and arrive this week. The travel ban executive order has also intended to cut the number of refugees allowed in the U.S. by half. The estimated number of refugees this year was 110,000 but America now wants to only take 50,000.
Other countries: Homeland security, the State Department, and the National Intelligence Director have been ordered to create a new vetting system for new arrivals. They have been told to make a list of countries that "do not provide the information they want and bar citizens from those countries if the information isn't provided within 60 days." Countries such as Canada will be expecting a very large volume of visa holders and refugees.  Many countries are also being affected by the ban on foreign workers for tech companies keeping their needed talent to fill positions out of the U.S.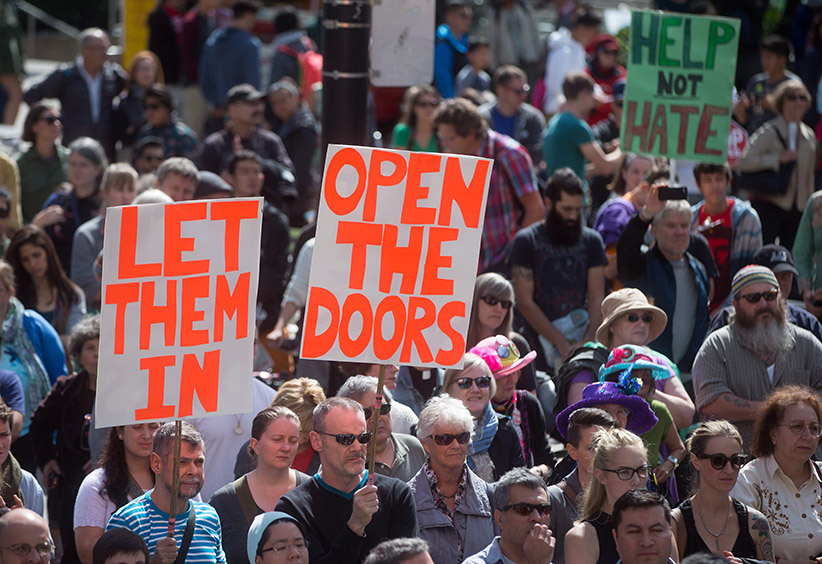 Who can still enter America?
American Citizens: Immigrants from the seven countries can cross the U.S. border with their provided passports and proper documentation of citizenship.
Green Card holders: In the first days of the ban there were many people confused on whether citizens of the seven countries with a U.S. permanent residency card, known as a "green card", would be allowed to enter or not. Many green card holders were held and detained at airports but after the public protests at many airports, the White House and Homeland Security changed their memo saying that permanent residents could enter the U.S.
Canadian citizens: There are more than 35,000 Canadians with dual citizenship with one of the seven countries banned. For example, the Federal Immigration Minister Ahmed Hussen is a former refugee from Somalia. Hussen is now a dual citizen of Canada. Despite the initial reports from U.S. Homeland Security and State Departments that dual citizenship holders would not be allowed to enter, Mr. Hussen sought assurance from Washington that dual holders would be able to travel. The Federal Government moved to clear up the confusion that surrounded a U.S. travel ban on citizens of seven predominantly Muslim countries by announcing that Canadian citizens and permanent residents with roots in those countries can still cross the border. Canadians and Canadian Permanent Residents who do face problems traveling into the United States have been told to call Canada's emergency travel number, 613-996-8885.
Diplomats: The United States said that government officials with diplomatic credentials are not affected. However, Canadian federal rules prohibit diplomatic passport holders from using their passport for personal trips.
Can people being blocked from the U.S. come to Canada instead?
Refugee and immigration claims have complicated vetting processes in both Canada and the United States. Hiring an immigrant attorney or immigrant lawyer will better your chances of being accepted efficiently. Although Canada did offer to grant temporary resident visas to anyone stuck in Canada because of the United States ban, the Canadian government said that they will not take in any additional refugees this year or suspend a deal that prevents migrants who arrive from the United States from seeking asylum there. Although they may not be taking any more refugees, Canadian Immigration Offices still work hard to help people looking to immigrate to Canada achieve their goal The United States is one of the Safe Third Country Agreement which states if a refugee must ask for protection in the first safe country they arrive in. Legal experts are saying that the executive order issued by Mr. Trump has clearly violated the agreement.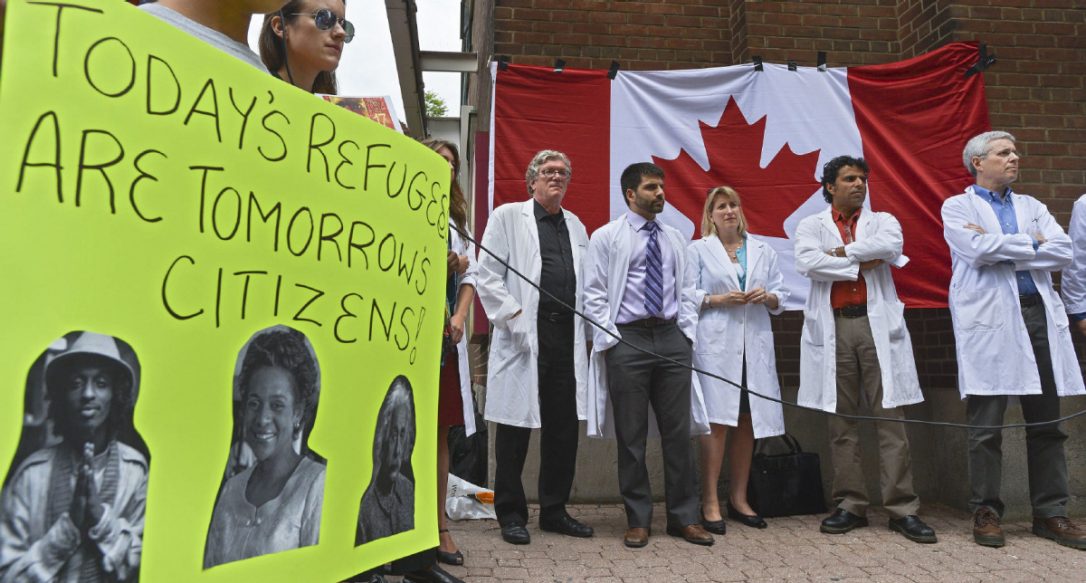 What is being done now?
The United States have been fighting back with the support of activist, immigration lawyers, and translators helping the stranded travelers. Many US immigration lawyers donated their time to spending endless hours at airports ready to defend the visa holders and refugees held in custody at the airport. Several Canadian mayors have also said that they would work with Ottawa to help welcome refugees and those who have been stranded by the U.S. travel ban. Many Canadian immigration lawyers have also been working with immigrants in America who seek a new country to build their life in.
We'd love your thoughts; please comment below!
Are you interested in immigrating to the U.S. or Canada?
We helped thousands and We Can Help You! 
Contact VisaPlace Today. All our cases are handled by competent and experienced immigration professionals who are affiliated with VisaPlace. These professionals consist of the best immigration lawyers, licensed paralegals, and consultants who work for Niren and Associates an award winning immigration firm that adheres to the highest standards of client service.
Ready for the next step? Book your 1 on 1 consultation now or call us at 1-888-317-5770.
Have a Question related to your Immigration Needs?
Click here to fill out the FREE Immigration Assessment form below and get a response within 24 hours to see if you're eligible.
The assessment form should take approximately 5-7 minutes to complete. We will get back to you within one business day to let you know if we are able to help.
Source:http://www.theglobeandmail.com/news/world/us-politics/trump-immigration-ban-canada/article33822491/
The content and comments of this blog are not legal advise and and may not be accurate or complete. If you require legal advice, contact a licensed legal practitioner directly. If you post on this blog, you assume full responsibility for disclosing your identity to the public and VisaPlace nor its affiliates are not responsible for protecting your privacy nor your identity concerning your participation in our blog and you assume any risks in participating.
Customer Reviews
Visa place is the best!!! I use Yasmeen to do paperwork work for my mom to come to Canada and she was amazing. Very helpful and always reply to your email promptly. My experience was awesome everything was a success and I will recommend VISA PLACE to anyone who want quick and successful results. Thank to all the team at Visa Place but a special thank you to Yasmeen again.
Working with the team as VisaPlace and their trusted partners was an incredibly wonderful experience! The team is extremely knowledgeable, responsive and has the partnerships to get the job done in an efficient and timely manner. Will definitely call them again should I have more visa requirements, issues or questions!!
Spectacular experience. Completely smooth process, they were able to answer any of my questions any time and I had peace of mind throughout the application time, which was invaluable. I have recommended them to other friends looking for assistance with their applications, and will continue to do so. Worth every penny.