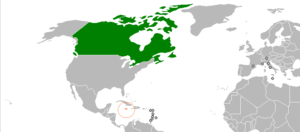 Canadian Embassy in Jamaica – Kingston
Street Address:
Canadian High Commission
Immigration Section
3 West King's House Road
Kingston
Mailing Address For Canadian Embassy in Jamaica
Canadian High Commission
Immigration Section
3 West King's House Road
P.O. Box 1500
Kingston 10
Jamaica
Tel.: 876-733-3393
Fax.: 876-733-3480
E-mail Address: kingston.immigration@international.gc.ca
Website: www.canadainternational.gc.ca/jamaica-jamaique/
Additional information about this Canadian Embassy in Jamaica:
The Canadian Embassy in Jamaica is also responsible for handling visa and immigration processes from surrounding countries including Bahamas, Cayman Islands, Jamaica, and the Turks and Caicos Islands.
Between 1,600 and 2,800 people immigrate to Canada from Jamaica annually, and the Jamaican community in Canada is estimated to be approximately 230,000 people. Jamaica is a popular tourist destination for Canadians, and many Jamaicans come to Canada every year to study and work through special exchange programs.
Should You Contact a Lawyer First…?
It is important to remember that when applying for Canadian Immigration, you are required to submit your application to the Canadian Embassy of your nationality. However, there are some exceptions to this rule. You should always contact an immigration lawyer to assist you with the procedures associated with the Canadian Embassy of your region because the Canadian Embassy in Jamaica may have its own set of special rules and procedures.
[gravityform id=1 name=Havea Question? ]