Trump Considers Pulling Out Of NAFTA, What Does This Mean For Immigration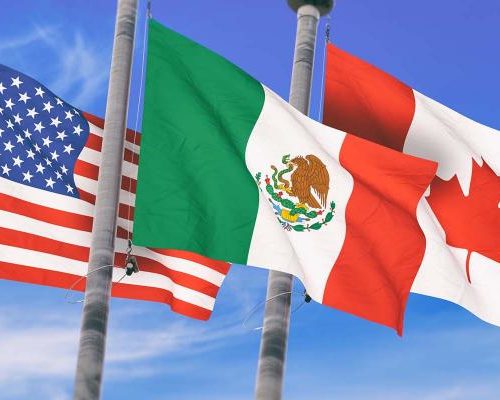 Creating Tension Between America and Its Neighbors
The President of the United States, Donald Trump, has considered starting the process to withdraw America from the North American Free Trade Agreement. The NAFTA is an agreement between Canada, Mexico, and the United States that created a trilateral trade bloc between the countries. The deal removed tariffs and allowed for the free flow of goods and services between the three countries in North America. In most economic analyses recorded that the NAFTA has had a small positive impact on the United States while it has had an enormous positive impact on Mexico and an insignificant impact on Canada.
[NAFTA is under revision. NAFTA will most likely turn into the USMCA (United States Mexico Canada Agreement). USMCA is expected to be approved in the beginning of 2019. Until then NAFTA will remain active and the visas under NAFTA are still available. Learn more about about the USMCA. ]
Trump Signing Executive Orders Alienating America is Not New
A draft of the executive order was submitted for the final stages of review. Although allegedly Trump has not made a final decision, if he were to sign the executive order notifying both Mexico and Canada of withdrawing from the NAFTA it would start a 6-month process of removing. The law has shown to extract better terms with Canada and Mexico.  Not only economic conditions between countries but in total relations such as immigration to the US. Sources say that allegedly Trump will make final decisions on the order within a few days. This isn't any news for anyone who followed Donald Trump's presidential campaign as he spoke about the NAFTA quite frequently. Trump pledged in his campaign that he would renegotiate the deal. Although he promised to renegotiate the transaction, the draft of the executive order is vowing to terminate the agreement altogether. During his speech last week in Kenosha, Wisconsin he said "NAFTA's been very, very bad for our country. It's been very, very bad for our companies and our workers, we're going to make some very big changes, or we are going to get rid of NAFTA once and for all." President Trump has promised to renegotiate multilateral trade deals which were part of his "America First" approach. During the first few days in office, Trump signed a similar agreement withdrawing from the Trans-Pacific Partnership trade deal.
What This Means for Visas and Immigration
For the most of history, America and Canada have had a great relationship with the economy and immigration between the countries. Since the 2016 election, the relationship between Canada and the U.S. has been tense. Recently, Canada lowered its price on domestic milk which created more competition for American dairy farmers so then the U.S. counteracted with their new tariff on softwood lumber coming from Canada. Canada isn't the only country that has been tense with the U.S., so has Mexico since the US President pledged to build a border that Mexico will pay for. If America does pull out of the NAFTA, it will eliminate the TN visa. The TN Visa "allows citizens of Canada and Mexico, as NAFTA professionals, to work in the United States in prearranged business activities for U.S. or foreign employers. Permanent residents of Canada and Mexico are not able to apply for TN visas to work as NAFTA professionals." The L1 Visa will also be affected by pulling out of the agreement. The L1 visa "facilitates the temporary transfer of foreign worker in the managerial, executive or specialized knowledge category to the U.S. to continue employment with an office of the same employer, its parent, branch, subsidiary or affiliate." Pulling out of the NAFTA will not only affect the TN and L1 directly but also cause a tense relationship between the United States and its neighbors, Canada and Mexico. Creating this type of tension will create a more challenging immigration process in the future.
Are You Interested in Immigrating to the US or Canada?
Fill out our FREE online immigration assessment, and we will get back to you within 24 hours.
WE WANT YOUR FEEDBACK! 
Do you think America retracting from the NAFTA will be beneficial or not? Comment below, we want to hear your opinion!
Related Pages:
If Your TN Visa Application Was Denied
3 Reasons Why Your L1 Visa Could Be Rejected
Sources: https://www.washingtonpost.com/news/wonk/wp/2017/04/26/trump-close-to-notifying-canada-mexico-of-intent-to-withdraw-from-nafta/?utm_term=.f60a9f1bd1e8

http://www.politico.com/story/2017/04/26/white-house-nafta-withdraw-trump-237632
The content and comments of this blog are not legal advise and and may not be accurate or complete. If you require legal advice, contact a licensed legal practitioner directly. If you post on this blog, you assume full responsibility for disclosing your identity to the public and VisaPlace nor its affiliates are not responsible for protecting your privacy nor your identity concerning your participation in our blog and you assume any risks in participating.
Customer Reviews
After initially having a very bad experience with one of their immigration consultants and after posting a negative review on Google I was immediately contacted by the Managing Director to reschedule another consultation to try and provide me with a more positive experience. I have been impressed by their attention to customer service as a result of this and I appreciate the initiative that they have taken to turn my negative experience into a positive one. My second consultation was a great experience, I spoke with Brian about my Canadian PR application and he was able to give me great advice and was extremely helpful. He answered all my questions and explained the process of how to apply and was very patient with me which I really appreciate.
Great law firm with great staff. My lawyer Rania did a great job for my Canadian work permit and my daughters study permit. You are great in your work. And my Para Legal officer Alicea, you are just amazing. They did not rest until my job was promptly and properly done. Always there to answer my calls, reply my emails promptly. She tried her best and the results were amazing. I recommend visa place if you need the best immigration job. Many thanks to Rania and Alicea.
Great firm on top of their game. Worked with us til the end to ensure my parents visa was approved and guided us along the way in a professional manor. Natalie is awesome. Majority of our communications were via email, but the responses were immediate. I would greatly recommend this firm. Thank you for all your hard work and help. My family and I do really appreciate it.