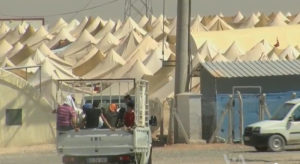 As recently reported by CBC News, Canada has answered the UN's plea and will welcome another 10,000 Syrian refugees over the next three years. Immigration Minister Chris Alexander made the announcement in Toronto last week following the United Nations Refugee Agency's global appeal to resettle a staggering 100,000 refugees globally.
Canada's Pledge
According to Alexander, around 60 per cent of the Syrian refugees will be sponsored by private groups, whilst the other 40 per cent would be government-sponsored.
As detailed in a recent report, the number of Syrian refugees has now reached a critical level, outnumbering Afghans to become the largest refugee population under protection by the United Nations.
The report claimed that Syrian refugees now make up around 23 per cent of all refugees currently being assisted by UNHCR globally.
A "Generous Commitment"
The UN Refugee Agency were enthusiastic about Canada's "generous commitment", and issued a written statement which read: "This substantial pledge is in keeping with Canada's strong humanitarian tradition to offer resettlement to refugees worldwide."
Prior to its recent pledge, the Canadian government had recently come under fire from certain immigration groups who claimed it wasn't doing enough for Syrian refugees. The government had fallen behind on previous commitments to shelter 1,300 Syrian refugees in 2014.
Alexander stated: "As of today, 1,285 refugees have been approved to come to Canada. Almost 1,100 of those are in Canada. We expect the remaining refugees to arrive in Canada by March 2015."
Out of the 1,285 refugees, 360 were sponsored by the government – an additional 160 more than its previous commitment of 200. However, only 1,063 Syrian refugees had actually made it to Canada's shores by December 29, 2014.
Prioritizing Refugees
The Canadian government has also been criticized for prioritizing refugees based on ethnic and religious minorities, although a spokesman for the immigration minister said there will be no apologies for doing so.
Spokesperson Kevin Ménard wrote the following to CBC News in an email:
"Canada is focusing on vulnerable individuals and those facing persecution. We make no apologies for putting focus on people in need, some of whom are being persecuted based on their religious beliefs. Our priority is and will continue to be on those who are at risk because they are a religious minority, a sexual minority, or victims of rape."
Canada's recent pledge was welcomed by NDP foreign affairs critic Paul Dewar, although he claimed to be skeptical of whether or not the government would be able to fulfill such a high order of taking in ten times as many refugees when it struggled to deal with just over 1,000. His skepticism was also shared by liberal immigration critic John McCallum.
Additional Iraqi Refugees
Alexander also announced that by December 31, 2015, Canada would help to resettle an additional 3,000 Iraqi refugees – which would take the total number of Iraqi refugees resettled in Canada to 23,000.
Canada's recent pledge also included humanitarian assistance totaling an additional $90 million for the region – $50 million of which will go to those affected in Syria and its neighboring countries. $40 million will go towards those affected by the Iraqi crisis.
Are you Interested in Immigrating to Canada?
If you've been in any way affected by this story, and wish to immigrate to Canada, We at VisaPlace can help you get started on your journey to Canada. Use our online form to book an initial consultation, or contact our immigration experts to find out just how our services could help you.