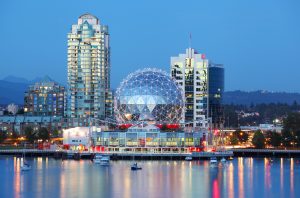 British Columbia recently defunded legal aid for immigrants and refugees, but that doesn't mean they aren't embracing immigrants. They are looking for a different type of immigrant, the educated, innovative, and business-type of an immigrant.
At the BC Tech Summit, Vancouver's biggest tech industry confab, Christy Clark spoke to the packed convention hall. Christy Clark is one of Canada's politicians who is the Leader of the Opposition in the British Columbia legislature and was formerly the 35th Premier of British Columbia. Without mentioning the United States nor their President, Clark made a clear message which was: "If the U.S. won't welcome the world's brightest engineers and programmers, so much the better for Canada." Clark went on to say "While other countries are looking in, let's be a country and a province that is looking out. One that is reaching out to the world that is building bridges to the world that is welcoming people in — the best and the brightest from every corner around the globe."
Donald Trump has been implementing his promises on restricting the immigration policy for America. In particular, he has set his focus on limiting the H-1B visa for skilled foreign workers. This permit type is used for foreign workers to come to America to fill positions that Americans can not fill. Now, with H-1B visas being very selectively being given out, it has opened an opportunity for other countries to lure away top talent that would otherwise seek employment in Silicon Valley. Now some of the world's most intelligent workers are now finding jobs in other nations such as China, Mexico, France, India, and Canada.
Vancouver has taken upon itself to stand up as the 'Silicon Valley' of Canada. It is quite useful that Vancouver is near other technology hubs such as San Francisco and Seattle. Beyond just the geographical advantage, Canada is already home to many tech powerhouses such as Shopify, Nik, and HootSuite. Many companies such as Facebook, Boeing, Microsoft, and Amazon also have principal offices in Vancouver which are mostly filled with foreign workers on temporary visas.
Over the past ten years, British Columbia's employment of skilled technology workers has grown 27%, mainly because of the traffic the U.S. has sent to Canada. They have made a cautious effort to make it easy for U.S. tech companies to open offices in Canada which evidently makes it easier for denied US workers to work in Canada instead. We can also keep an eye out for the Global Skills Strategy which will be a fast-track visa for skilled foreign workers, making it even easier to work in Canada.
Do you want to immigrate to Canada?
Fill out our FREE online immigration assessment, and we will get back to you within 24 hours.
WE WANT YOUR FEEDBACK! 
Comment below, we want to hear your opinion!