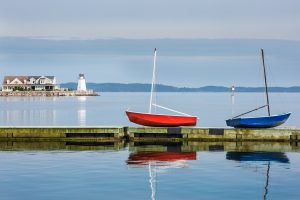 On November 7, 2022, the New Brunswick Provincial Government announced a brand new immigration pilot project: the New Brunswick Critical Worker Pilot (NBCWP).
The pilot (a joint federal-provincial project) aims to alleviate critical worker shortages in New Brunswick. The pilot is unique in that it will not only offer economic immigration to the province, but it will also provide settlement services (including skills and language training) to newcomers who arrive as a result of the project.
Learn more about other New Brunswick programs.
What Are Employers Required to Do?
Cooke Aquaculture, Groupe Savoie Inc., Groupe Westco, Imperial Manufacturing, J.D. Irving Ltd., and McCain Foods have all agreed to participate in the pilot. These employers have a strong reputation with the New Brunswick Provincial Nominee Program; have steady immigrant recruitment practices; have newcomer settlement programs in place; and are willing to provide onsite training as well as language support.
Participating employers must meet a number of requirements. They are required to:
have robust settlement plans for housing and transportation to best support candidates' successful integration into their new jobs and communities, with strong commitments to long-term retention
have comprehensive human resource planning in place for recruiting and hiring skilled international talent, as well as enhancing on-the-job skills;
Recruited candidates will receive up to 200 hours of language training as needed; and
provide guidance and support to candidates interested in pursuing their Canadian secondary education equivalency
The five-year pilot program will be monitored and evaluated on a regular basis to ensure that it remains responsive to immigration needs while also achieving the desired results for the province.
Do You Need Help Applying for the New Brunswick Immigration Pilot?
If so, Contact VisaPlace today. All our cases are handled by competent and experienced immigration professionals who are affiliated with VisaPlace. These professionals consist of lawyers, licensed paralegals, and consultants who work for VisaPlace Legal, an award-winning immigration firm that adheres to the highest standards of client service.
Ready for the next step? Book your 1-on-1 consultation now or call us at 1-888-317-5770.
Have a Question related to your Immigration Needs?
Fill out the FREE Immigration Assessment form and get a response within 24 hours to see if you're eligible.
The assessment form should take approximately 5-7 minutes to complete. We will get back to you within one business day to let you know if we are able to help.