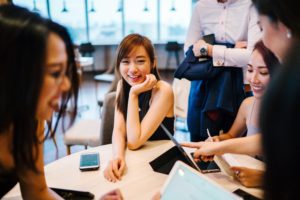 It is no longer news that China has become a key player in the global economic system. Over the past few decades, China has been making waves in manufacturing, international trade and in the provision of skilled manpower across the globe. Developing a skilled manpower base does not just happen. It takes a lot of effort. In this regard, China is making things happen by giving scholarships to its citizens to study abroad.
Sending Chinese Students Abroad
For over 34 years, China has been implementing a foreign student policy. Since 1978, over two million Chinese students have received education in foreign universities across the globe (including Canada). The aim of this policy is to ensure that these students have the necessary technical skills and qualifications that will help them contribute to development in China after their programs.
Apart from those sponsored by the Chinese government, there are private-sponsored international students of Chinese origin in foreign universities too. These ones are sponsored by their parents who want them to acquire vital skills abroad.   For any Chinese student looking to study in a Canadian university, they would require a study permit.  Niren & Associates has extensive knowledge working with Chinese students who want to study in Canada.
The Canada Initiative
Recently, the Chinese government awarded scholarships to 14 Chinese PhD candidates in Canadian universities. This award is called the Chinese Government Scholarship for Outstanding Self-financed Students Studying Abroad program. In an elaborate ceremony in Ontario, each of the students was given a check for $6,000 by the Chinese Consul General Fang Li. According to the Consul General, this award was a gesture of support from the Chinese government. It is also meant to encourage about 56 other PhD candidates in Canadian universities in Ontario and Manitoba. China has up to 70 doctoral candidates in Canada and these students can also apply for the scholarship.
Supporting the Youth
China has a very large population of foreign students in Canada. In 2010, there were about 105,000 Chinese students studying in Canadian universities. The purpose of the Chinese Government Scholarship for Outstanding Self-financed Students Studying Abroad program is to help Chinese students abroad achieve their goals. This is definitely a worthwhile project and other countries can learn a thing or two from China.