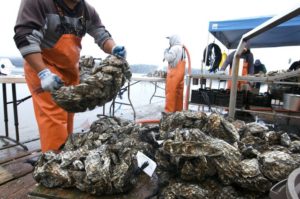 The Trump administration spent the past week discussing how they plan to allow 30,000 more foreign seasonal workers into the United States temporarily. This would take place from when the rule is said to be set, through the remainder fiscal of 2019.
The visa the seasonal workers would receive is called the H-2B visa. The H-2B program allows U.S. employers who meet specific regulatory requirements to bring foreign nationals to the United States to fill temporary (seasonal) non-agricultural jobs. These visas will only go to returning foreign workers who have had the visa before, over the past three budget years. Many go back to the same employers every year. These workers have had background checks, are highly trusted and are not likely to stay past their visa end date, officials said.
The program allows businesses to hire seasonal help that is crucial to their operations, filling jobs that in many cases American workers don't have any interest in doing. This would be a huge advantage to jobs such as oyster shucking companies, fisheries, loggers and seasonal hotels, including Trump's very own Mar-a-Lago club in Florida.
U.S. Citizenship and Immigration Services will begin taking applications from employers on behalf of the workers once the temporary rule is published in the Federal Register.
The vast United States economy has made it progressively difficult for employers to find labor in certain fields. Congress has typically capped the number of the temporary visas at 66,000 a year – 33,000 for summer and for winter – though the Trump administration has raised that number by 15,000 in each of the last two years. Businesses and others have routinely asked Congress to expand or eliminate the cap on H-2Bs in order for their companies to succeed.
White House senior adviser Jared Kushner said late last month he was working on an immigration plan that would address Trump's desire for border security and give more weight to economic qualifications of potential immigrants.
Trump had once protested strongly against the flow of foreign workers and argued, despite conflicting evidence, that foreigners hurt American workers by competing for jobs and pushing wages lower. But Trump now says he favors more legal immigration because of economic gains on his watch.
Are You Interested in an H-2B Visa?
With many specific steps to fulfill for a successful H-2B visa application, there are often challenges and missed details that can lead to a failed attempt. All the 't's need to be crossed and the 'i's dotted, and an applicant that submits without legal help can easily make a simple but crucial error. With the help of experienced immigration legal experts, each step of the process will get the proper attention it requires, and increase your chances to a successful application.
Are You Interested in Working in the US?
If so, Contact VisaPlace today. All our cases are handled by competent and experienced immigration professionals who are affiliated with VisaPlace. These professionals consist of lawyers, licensed paralegals, and consultants who work for Niren and Associates an award-winning immigration firm that adheres to the highest standards of client service.
Ready for the next step? Book your 1 on 1 consultation now or call us at 1-888-317-5770.
Have a Question related to your Immigration Needs?
Click here to fill out the FREE Immigration Assessment form below and get a response within 24 hours to see if you're eligible.
The assessment form should take approximately 5-7 minutes to complete. We will get back to you within one business day to let you know if we are able to help