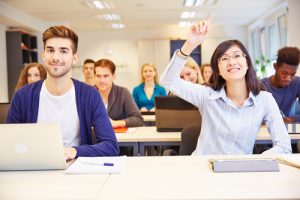 Canada is taking a strong stance on international students. In the past, it was considered one of the easiest countries to enter as a student. Not only could a student gain a permit just for having intent to attend school. But there were no penalties for the student who never showed up for class.
Program Changes Due to International Student Fraud
Cases of fraud have increased. So the Canadian government has made adjustments to the International Student Program, as of June 1st, 2014.
These new rules reduce potential fraud. They also improved services to legitimate students who have not tried to misuse the system.
Intent to Study
Previously, all a student had to do was declare their intent to study. After June 1st, a student will provide proof of enrollment at an academic institution approved of by the government.
Tougher Laws
Study permits will no longer be released until the student shows proof of pursuing studies. This must be at a school designated as an institution that can receive international students.
Student Work Visas
Currently the student must apply for an offsite work visa separately from a study permit. Once the changes take effect, the work permit will be integrated in the study permit. 20 hours a week during the semester, full time during holidays. However, the student must be pursuing at degree that takes longer than six months. As for co-op work permits, they will only go to students that can prove they are needed in order to complete their degree.
Residential Status While Applying for a Study Permit
Prior to June 1st, the international student could not apply while residing within the country. Now they can apply if they are attending a secondary school or on an academic exchange.
The Expiration of the Study Permit
A study permit will immediately expire within 90 days of completing the degree. The previous law allowed the international student to reside until the permit expired.
A Positive Change
Students recognized as Registered Indians and foreign nationals do not need a permit to study in Canada. They already have the right of entry into Canada. Prior, there was no clear written exemption.
Also, students may continue to work while waiting to hear if they are approved to continue on with postgraduate work. Whereas before, they weren't allowed to work.
These changes will not affect current international students, who will be given a three-year leeway. And anyone studying 6 months or less will not need a permit.
Are You Interested in Obtaining a Study Permit?
More than 130,000 students come to study in Canada every year and even more come to Canada to learn English or French.  There is no reason why this cannot be you too. VisaPlace works with qualified immigration lawyers who can help you. Contact us to book a consultation.