201 Portage Avenue
Canada
(204) 272-6266
Hours of operation:
Mon-Fri: 9 am – 5 pm
Appointment required:
Yes
Are You Thinking Of Migrating to Winnipeg, Manitoba Canada?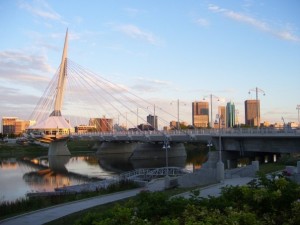 Winnipeg, Manitoba, Canada is a wonderful place to migrate to. Winnipeg is the capital and largest city of Manitoba, Canada, with a census area population of 730,018 in the Canada 2011 Census. It is located near the longitudinal centre of North America, at the confluence of the Red and Assiniboine Rivers.
"Thanks to an ambitious immigration program — will see big increases in preschoolers, school-age kids and young adults between now and 2036" – Wilf Falk, head of the Manitoba Bureau of Statistics
Manitoba's population, at 1,222,000 in 2009, could rise to between 1,434,300 to 1,735,700 by 2036. Falks attributes this growth to new immigrants migrating to Winnipeg.
There Are HUGE Opportunities For New Immigrants to Migrate to Manitoba
This makes an ideal situation for people from abroad who want to immigrate to Winnipeg, Canada. At the end of the day, Winnipeg has an aging population and they need to fill the workforce with younger skilled workers and so they are aggressively accepting new immigrants to their city.
Manitoba Provincial Nominee Program Could Be Your Ticket
Manitoba has recently streamlined the MPNP — making a simpler, supported path to their province for skilled immigrants. Improvements by the Manitoba Provincial Nominee Program for Skilled Workers will help you and your family to quickly determine if you share the qualities that lead thousands of people from all over the world to successfully settle and make a new home in Manitoba.
Want An Assessment to Know If You Qualify to Migrate to Winnipeg?
Our immigration lawyers have the knowledge to let you know if you will qualify to immigrate to Winnipeg. Getting an assessment is easy, just contact us here and book an appointment that is convenient for you. We will ask you series of questions and will spend about 15-30 minutes in a virtual meeting to determine if this would be a good fit for you and your family.
How Our Immigration Lawyers Can Help
If you plan on migrating to Winnipeg, MB Canada, then you'll want an immigration lawyer who knows the ins and outs of Canadian immigration. Our firm has offices throughout North America, but our corporate office is in Toronto. Even though our main office is not located in Winnipeg, if you watch the video above you will quickly see we are able to help anyone in the world immigrate to Manitoba.
Our immigration lawyers have over 30 years combined experience and have successfully processed thousands of Canadian visa applications. We are fully confident we can help you with your immigration matter too! You can get in touch with us here.
Other Interesting Facts & Information About Winnipeg:
Manitoba has four different seasons – spring, summer, fall and winter. The temperatures can be very hot in the summer and very cold in the winter. You must plan your activities and your clothing around the temperatures so that you and your family remain safe and healthy. One of the major landmarks of Winnipeg is the Esplanade Riel Pedestrian Bridge seen in the photo above on this page. You could also check out the Royal Canadian Mint's facility in Winnipeg which produces billions of coins each year. Winnipeg has a ton of fun activities any family can get involved with.
Once You Arrive in Manitoba
Once you arrive to Winnipeg and get settled in your new home, you'll want to do the follow items:
When you work with our immigration law firm we make sure we provide you with all the resources you'll need to settle properly in your new country. If you are interested in immigrating to Winnipeg, be sure to contact our law firm to get an assessment of your case with one of our immigration experts.
Recent Reviews About Our Immigration Lawyers:
MVA
"Thanks to Shabanam Agrami for helping me w / TRP and Application for Rehabilitation. After Speaking to Sham i was convinced that she could accomplish what I needed. I liked the communication through the application and filing process, the fact that all payments were made via Credit card and E-Mail. I had a short window to get this application submitted and TRP application in hand before my trip and Sham got it done. I really appreciated the convenience and speed with which this was all accomplished. I highly recommend this Firm and Sham in particular. Definitely refer Niren to others."

Everette Reeves
"I would like say thanks to you regarding the excellent service, I received from Tiziana Aiello with regard to my Visa application. She went to fantastic lengths that helped me when my application was thrown into turmoil by some delay of documents from my business. Eventually, She got every document and submitted my application as of today. Once more, Thank you a lot. I am going to recommend Niren& Associates to all my friends in Winnipeg."

Susan Tanning
"We are very very grateful for your REAL and EFFECTIVE help and expertise which definitely were main reasons of our success in getting Canada visitors' visas. Our application document prepared by Niren & Associates and supported by the valuable Submission notice have definitely appeared in Embassy as excellent and comprehensive – not one "documentary" problem was raised throughout the interview. And without doubt our visas success was built on the valuable knowledge, effectiveness, attention, client-oriented way of interaction, entire understanding your client's needs as well as your thorough expertise in immigration law and common law which all were duly and fully shown during the file planning procedure. We're really Entirely Satisfied and definitely will certainly suggest to all good friends and partners to not make any kind of action to the Canadian law and immigration "field" without having your assistance."
Customer Reviews
The team here is wonderful. They are so professional and capable of handling any immigration matters. I just received my Work Permit thanks to them. Thanks Alicea again for helping me! I highly highly recommend to try their services ❤❤
Money well spent! Very professional and thoughtful. I had a need to visit their office and was pleasantly surprised and was treated very cordially. My wife's work permit came in several months early as did her permanent residency. Thank you Lisa and Laura!
The agency is very capable and have a lot experience to handle USA immigration issues. My I -601 case was approved because of their help. I strongly recommend this wonderful agency.