300 International Drive, Suite 100
USA
(716) 986-9611
Hours of operation:
Mon-Fri: 9 am – 5 pm
Appointment required:
Yes
Are You Thinking Of Migrating to Buffalo, New York, USA?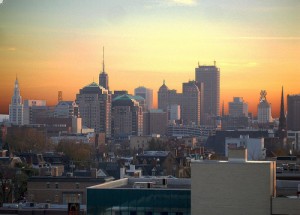 Buffalo is the second most populous city in the state of New York, after New York City. According to the 2010 Census, Buffalo has a population of 261,310 and the larger Buffalo–Niagara–Cattaraugus has 1,215,826 residents. Buffalo originated around 1789 as a trading community on Buffalo Creek, and began to grow quickly in 1825 after the opening of the Erie Canal. By the 20th century, Buffalo became a major shipping hub and grew to be the 8th largest city in the United States.
From our many cultural institutions and our wonderfully diverse neighborhoods, thriving commercial districts and peerless urban architecture and artistic communities that continue to inspire and excite, Buffalo is a city with a renewed feeling of hope and optimism. – Buffalo Mayor Byron Brown
Buffalo is an Ideal Destination for Immigrants
In recent years, the region's largest economic sectors, health care and education, continue to grow despite the lagging national and worldwide economies. This growth has been helped by major expansions to the Buffalo Niagara Medical Campus and Buffalo's State University of New York. This makes Buffalo and ideal place for international students or medical professionals, the latter of whom can apply through the H-1B visa.
Buffalo's economy remains strong throughout the economic recession because of revenue from Canadian shoppers who cross the border to go shopping. In 2010, Forbes rated Buffalo the 10th best place to raise a family in America, in part because it's low unemployment rate.
USA Visa Procedures Have Been Made Easier for Canadians
Under the North American Free Trade Agreement (NAFTA), the doors have been opened for Canadians and businesses seeking to enter the US markets. As a result, TN Visa applications for Canadian businesses and professionals are now being accepted through a streamlined process.
Want An Assessment to Know If You Qualify to Migrate to Buffalo?
Our immigration lawyers have the knowledge to let you know if you will qualify to immigrate to New York. Getting an assessment is easy, just contact us here and book an appointment that is convenient for you. We will ask you series of questions and will spend about 15-30 minutes in a virtual meeting to determine if this would be a good fit for you and your family.
How Our Immigration Lawyers Can Help
If you plan on migrating to Buffalo, NY, USA, then you'll want an immigration lawyer who knows the ins and outs of American immigration. Our firm has offices throughout North America, but our corporate office is in Toronto. Even though our main office is not located in Buffalo, if you watch the video above you will quickly see we are able to help anyone in the world immigrate to Canada.
Our immigration lawyers have over 30 years combined experience and have successfully processed thousands of US visa applications. We are fully confident we can help you with your immigration matter too! You can get in touch with us here.
Other Interesting Facts & Information About Buffalo:
Since the 1840s, Buffalo has commonly been referred to as "The Queen City", because of the city's status as the second largest city in New York State after New York City. In the early 20th century, the city began calling itself the "City of Light", because it was the first American city to have electric street lights. Buffalo has also been called "The City of Good Neighbors", because of the helpful and friendly spirit of its inhabitants. In fact, in 2001, USA Today declared Buffalo the winner of its "City with a Heart" contest, proclaiming it the nation's friendliest city.
Once You Settle in New York
Once you arrive in Buffalo and get settled in your new home, you'll want to do the follow items:
When you work with our immigration law firm we make sure we provide you with all the resources you'll need to settle properly in your new country. If you are interested in immigrating to Buffalo, be sure to contact our law firm to get an assessment of your case with one of our immigration experts.
Recent Reviews About Our Immigration Lawyers:
Lui N.
"Hi Mary, I hope all is well with you. Thank you so much for touching base with me the other day. Not only did you make me feel relaxed, but also you showed me your understanding and care about my case, which means tremendously to me especially on that day when my body was suffering from unbearable pain due to the weather change. I have been grateful to your help so I can't help but writing this email to say thank you again. Because of my language barrier, plus my injury from the car crash accident, I have experienced so much hardships physically and mentally. But I am so fortunate at the same time too that I received so much kind help from people including from you and your office. I will not hesitate to recommend you and your firm to anyone who needs immigration help. I also believe that you will be a success professional in your career. All the best!"
Alicia E
"I crossed the border today and was granted my work visa with no problems whatsoever. Thank you so much for all of your help! "
Julian S.
"When I was first offered an employment opportunity within the USA, I had a lot of initial questions/concerns while going through endless immigration websites trying to find the answers- I continually found myself back at the same place, Niren & Associates. Further to researching their reputation and the fact they are conveniently located right at a subway stop I proposed to my employer that they go with Niren and Associates for my transfer. I have not regretted it for a minute. After working w/ them I would recommend Niren & Associates to anyone who has challenges w/ immigration. Their attention to detail was great, and always helping out with the trivial questions that I had. The consultation prior to obtaining my L1B visa was the highlight for me. They had no problems explaining the process and the expectations to me repeatedly in order to insure I understood it completely. Thank you again. "
Customer Reviews
I had an amazing experience with this immigration firm! They helped me to obtain B2 Tourist Visa to U.S. I went for legal support as in the past I was denied of entry due to working without proper authorization. The process itself was smooth, stuff was very helpful along the way. Special thanks to Renee Thompson who handle it and explained and guided through the process and helped to prepare for the interview. Would definitely recommend to anyone !!
Personally, I went through a lot with my immigration papers. But Karina and Lauren were very helpful and responsive to all our questions and concerns. Thank you once again on doing a great job. I would highly recommend Karina and Lauren and her firm.
I hired Visa Place for my US E2 visa application. The team at Visa place understood my business very well and prepare my case accordingly. Fadi and Natalie are very knowledgeable, my main contact was Natalie, she answered all my questions and concerns in detail and in timely manner, mostly within few hours. Thanks Visa Place team for your help and support during the process that produce successful result. See you again in 5 years for visa renewal application.