The Dangerous Risks of Illegal Immigration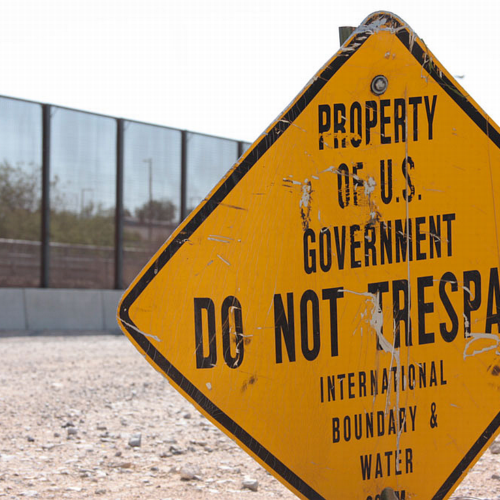 For many people around the world, illegal immigration seems to promise a relief from the miseries that they face. Some take this route for economic reasons and others for political motives. Either way, the path of illegal immigration is fraught with dangers that should be considered before someone decides to break the law of their new home by entering it illegally.
Consequences For Illegal Immigrants
Border patrol agents catch thousands of illegal immigrants every year. In the United States, this usually means a quick turnaround and a trip back over the border the first time. Illegal re-entry, in the same country, will either result in another deportation or jail time. Deportation may be preceded by jail time anyway if there are not enough people from the immigrant's country to make a trip financially worthwhile. Crossing the Border illegally may mean that you will not later be able to legally apply for and stay in the United States. Applying for a Green Card is much harder, if not impossible, if you have been living illegally within the US. If you cross with young children, this may also impact their ability to earn legal citizenship within the US. Additionally, you must have a valid social security number and passport in order to legally gain work in the US. If you use false papers, you put both yourself and your employee at risk. Beyond the legal repercussions of illegal immigration, the journey to cross the border illegally can be an incredibly dangerous experience.
Risks Immigrants Face When Crossing a Border Illegally
Crossing the border illegally is growing more and more dangerous. Both the US and other countries in South America are warning about the physical dangers of attempting to cross illegally. Immigrants might face any of the following dangers when attempting to cross the border into the US:
Human Traffickers
Some call them smugglers. Along the US-Mexico border, they are known as coyotes. Whatever name they give to their profession, these individuals pose as saviors to those who are in need of transport but they are really cold-blooded about financial matters. They often figure as greater dangers than those from which they promise to save their customers as they maneuver wilderness or urban jungle. Coyotes have been known to rob, rape and even kill their charges. All this occurs after they get their money, of course.
Drug Cartels
The same borders that people cross illegally also serve as conduits for illegal drugs. It is not a good idea to walk the same grounds as these criminals. If they perceive that an immigrant is in the way or has seen too much, they have been known to kill. Unfortunately some illegal immigrants have purchased their passage carrying illegal drugs. They do not always survive the encounter with their receivers at the other end.
Other People
The routes that people use to cross into countries are necessarily abandoned or unwatched. In these areas, other immigrants or the local residents may become aware of the lawlessness. They may take advantage of this and inflict grave harm on immigrants as they pass, even killing them for sport.
The Wilderness
Traveling through abandoned areas has other dangers as well. If the passage goes through a wilderness area, there will likely be wild animals that have even less respect for human life than some of the human predators out there. Furthermore, many of the people who resort to illegal immigration do so without having any survival skills for the wilderness. If predators do not get them, starvation or dehydration might do so.
Reasons For Illegal Immigration
Although the condoning of illegal immigration is certainly discouraged, the reasons one may pursue or end up in such an instance may not be subject to such a cut and dry assessment. Consulting an immigration specialist such as Niren and Associates may better aid one that may have found themselves in such a predicament.
Are You Interested in Legally Immigrating to the US?
The possible consequences of illegal immigration should stop a person or family in their tracks.  There are many legal options available to foreigners, and with the help of an experienced immigration lawyer from Niren and Associates, those looking for a brighter future will have a safer and easier trip across the border. Contact VisaPlace today. All our cases are handled by competent and experienced immigration professionals who are affiliated with VisaPlace. These professionals consist of lawyers, licensed paralegals, and consultants who work for Niren and Associates an award-winning immigration firm that adheres to the highest standards of client service.
Ready for the next step? Book your 1 on 1 consultation now or call us at 1-888-317-5770.
Have a Question related to your Immigration Needs?
Click here to fill out the FREE Immigration Assessment form below and get a response within 24 hours to see if you're eligible.
The assessment form should take approximately 5-7 minutes to complete. We will get back to you within one business day to let you know if we are able to help.
The content and comments of this blog are not legal advise and and may not be accurate or complete. If you require legal advice, contact a licensed legal practitioner directly. If you post on this blog, you assume full responsibility for disclosing your identity to the public and VisaPlace nor its affiliates are not responsible for protecting your privacy nor your identity concerning your participation in our blog and you assume any risks in participating.
Customer Reviews
I could not have asked for more! The VisaPlace team are extremely professional, they know their stuff. They gave me great information, prepared my work visa application and then prepared me for the submission process. I was successful. Got my visa. 5 stars! I would give them 6 if I could.
This is not an exaggeration!!! I was truly impressed with the way VisaPlace consultants handled my case. The consultants- Emily, Lauren, Takunda and Lisa, took their time to explain to me in great deal how they were going to approach my case and how they would handle setbacks, if any. Their professionalism and knowledge of the law were superb. The minor setback that came up was quickly addressed by the team. The team constantly kept me updated on the progress/status of my application; they quickly responded to my questions/concerns. They had predicated my permanent residency to be processed within 6 -12, and Indeed it was processed and completed within 6 months. Based on my personal experience, Emily and Lauren's team are the best! They deserve 5 stars!!!!!!!!!!!
VisaPlace helped me sponsor my husband to become a Permanent Resident of Canada. They were extremely professional. Every step along the way was explained fully and expertly taken care of. The staff responded immediately to any questions and always handled our concerns fully, taking as much time as we needed to understand where we were at in the immigration process and what to expect next. I would recommend VisaPlace with no hesitation at all. I'm sure if we had tried to navigate the immigration process ourselves, it would have been much harder.