TN Visa for Mexicans: Fast Track to Working in the US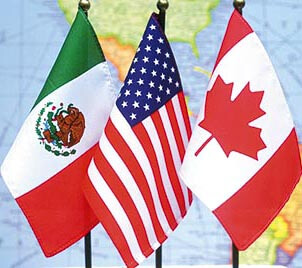 [NAFTA is under revision. NAFTA will most likely turn into the USMCA (United States Mexico Canada Agreement). USMCA is expected to be approved in the beginning of 2019. Until then NAFTA will remain active and the visas under NAFTA are still available. Learn more about how to work under USMCA. ]
TN Visa Basics
Usually, a citizen of a foreign country who wishes to enter the United States must first obtain a visa, either a nonimmigrant visa for temporary stay, or an immigrant visa for permanent residence. The North American Free Trade Agreement (NAFTA) created special economic and trade relationships for the United States, Canada, and Mexico.
Despite the fact that Mexicans can enter the US as visitors without a Visa (although they need to show proof of Mexican citizenship and a photo ID and a passport at airports), they need a Work Visa to legally work in the US. Working in the US, means working for a US company either as an employee or a contractor whereby that company is paying you or your company a salary or fee for services rendered in the US. permanent residents of Mexico are not able to apply for TN visas to work as NAFTA professionals.
Eligibility
Mexicans may be eligible to work in the United States as NAFTA professionals under the following conditions:
Applicant is a citizen of Mexico
Profession is on the NAFTA list (provided on our TN Visa page)
Position in the United States requires a NAFTA professional
Applicant will work in a prearranged full-time or part-time job for an employer. (Self employment is not permitted)
Applicant has the qualifications, meeting the specific requirements, education, and/or experience, of the profession.
Mexican citizens require TN visas to request admission to the United States in this status.
Benefits of a TN Visa for Mexicans
Permission to Work in the United States: TN-2 status allows professional workers to enter the United States and work in a professional capacity.
Indefinite Renewal: Unlike H-1B status, which usually has a limitation of six years, an alien can maintain TN-2 status indefinitely. TN-2 status is granted for a period of up to three years depending on the employer's needs and can be renewed for an additional three years thereafter. There is no limitation on how many times TN-2 status can be renewed.
Special TD Status Afforded to Dependents: Dependents of the TN-2 petitioner may apply for a special TD status and accompany the principal petitioner for the duration of his or her stay in the U.S.
Low Application Fee: The TN-2 applicant pays a $110 application fee as opposed to upwards of $1,110 in application fees for H-1B status.
No Quota:  Unlike H-1B applicants, TN-2 applicants are not subject to an annual quota.
Disadvantages of a TN Visa for Mexicans
TN-1 or TN-2 status may be a convenient and relatively cheap option for Canadian or Mexican professionals who have found employment in the United States. However, there are a few limitations on TN status that the alien should be aware of.
Short Duration: TN status has a maximum period of validity of three years. It may be renewed indefinitely, but it must be done every three years. If an alien wishes to stay beyond the time indicated on their I-94 card, they must seek an extension of stay. This can be done by having their employer filing an I-129 extension petition with the USCIS or by applying at a port of entry using the same application and documentation procedures required at the time of their initial entry.
Immigration Petition: A TN visa is not a dual intent visa, meaning that applying for permanent resident status can cause issues when traveling outside of the United States or seeking an extension of your TN visa. A pending application for permanent residence can be the basis of an initial denial of TN status. In this respect TN status is unlike H-1B status,where the alien may have dual intent without an adverse effect to the alien's non-immigrant or immigrant petition.
Spouse and Children Are Not Authorized to Work: The TD visa does allow for a TN visa holder's spouse and/or children accompany them to the United States for as long as their authorized status holds out. However, unless specifically authorized, TN dependents on TD visas are not allowed to legally work in the United States. They must obtain their own valid work visa in order to do so.
When we look at TN Visa cases, not only do we think about the documents, and our clients' experience and education etc., but issues about where they should apply are also considered. We have found a holistic approach to TN Visas which include thinking about not only the application itself but where to apply for it, to be very effective. I hope that you have found this TN Visa primer helpful.
The content and comments of this blog are not legal advise and and may not be accurate or complete. If you require legal advice, contact a licensed legal practitioner directly. If you post on this blog, you assume full responsibility for disclosing your identity to the public and VisaPlace nor its affiliates are not responsible for protecting your privacy nor your identity concerning your participation in our blog and you assume any risks in participating.
Customer Reviews
Great law firm with great staff. My lawyer Rania did a great job for my Canadian work permit and my daughters study permit. You are great in your work. And my Para Legal officer Alicea, you are just amazing. They did not rest until my job was promptly and properly done. Always there to answer my calls, reply my emails promptly. She tried her best and the results were amazing. I recommend visa place if you need the best immigration job. Many thanks to Rania and Alicea.
Great firm on top of their game. Worked with us til the end to ensure my parents visa was approved and guided us along the way in a professional manor. Natalie is awesome. Majority of our communications were via email, but the responses were immediate. I would greatly recommend this firm. Thank you for all your hard work and help. My family and I do really appreciate it.
I am grateful for the legal services that I got from Sanaa and Alicea of Visa Place. I was impressed by their client centered approach. Their professionalism involved their hearts and heads to work on my case. I cannot compare the time they spent on it with the money I paid. All they wanted was a fine final document. I also liked their prompt communication. They are really passionate about what they do.