Know these E2 Visa Requirements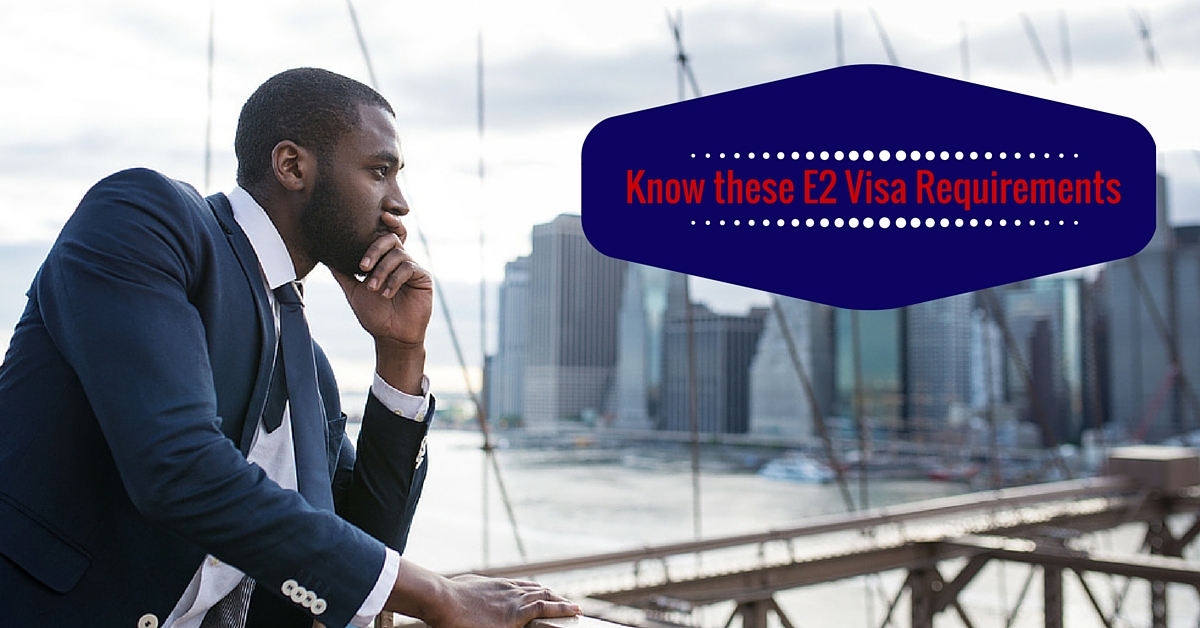 E2 Investment Visas
Investing in a foreign country is always a risky proposition, even if that country is a bastion of capitalism like the United States.
Gaining entry into the United States for the purposes of business creation and investment falls under the E2 visa. The E2 is called the treaty investor visa, which shouldn't be confused with the E1, which is referred to as the treaty trader visa.
There are a variety of different requirements that you'll need to meet in order to gain access to the E2 visa, some of which aren't clear cut prerequisites, which means that they're at the discretion of whomever handles your case.
Countries That Qualify Under the E2 Visa Program
The first requirement that you must meet revolves around the country from which you're doing business. Nonimmigrant E2 visas are part of treaties that have been negotiated between the United States and various countries from around the world. The following list contains countries that qualify under this program:
Argentina, China, Georgia, Kyrgyzstan, Pakistan, Switzerland, Armenia, Colombia, Germany, Latvia, Panama, Thailand, Australia, Congo, Grenada, Liberia, Philippines, Togo, Austria, Costa Rica, Honduras, Luxembourg, Poland, Trinidad and Tobago, Bangladesh, Czech Republic, Iran, Mexico, Romania, Tunisia, Belarus, Ecuador, Ireland, Morocco, Senegal, Turkey, Belgium, Egypt, Italy, Moldova, Slovakia, Ukraine, Bosnia-Herzegovina, Estonia, Jamaica, Mongolia, Spain, United Kingdom, Bulgaria, Ethiopia, Japan, Netherlands, Sri Lanka, Uzbekistan, Cameroon, Finland, Kazakhstan, Norway, Suriname, Yugoslavia, Canada, France, Korea, Oman, Sweden.
One should take care when the business investment involves Iran, as they're still designated as a State Sponsor of Terrorism, which restricts the type of business that you may conduct in that country. It should also be noted that six countries, Albania, Azerbaijan, Russia, Haiti, Jordan and Nicaragua, have signed treaties with the United States that have yet to be ratified.
E2 Visa Requirements
There isn't a minimum number when it comes to the investment that you're making in the United States, but the more substantial the investment, the more likely that you will be granted E2 status.
According to the U.S. Department of State, "the investor, either a person, partnership or corporate entity, must have the citizenship of a treaty country" and "at least 50 percent of the business must be owned by persons with the treaty country's nationality."
The business must be an operating enterprise or an active commercial or entrepreneurial business. Speculation, idle investments and paper organizations do not qualify for an E2.
Entities applying for the E2 visa must be the person who is in direct control of the money invested into the enterprise. Also, the funds invested must be at risk – in other words, the money committed to the new enterprise must be "committed and irrevocable" while ensuring that the business will be able to survive and operate.
The reason for the existence of this treaty and Visa program is mutual enrichment of the United States and the person conducting business within the U.S. As a result, the business is expected to generate significant amounts of income, more than is needed to keep you and your family and enough to create an impact on the U.S. economy.
For the most part, principal investors are expected to apply for the E2 visa, although essential employees, such as executives, supervisors, managers and highly-specialized or highly-skilled workers may also be allowed to arrive on an E2 visa.
Application Requirements
The first step to applying for this visa involves completion of the online nonimmigrant visa application, which is also called form DS-160. After completion, print out the form to bring it to your interview. You'll also need to upload a photo as part of this application.
After the form and photo are uploaded, the next step is setting up an interview with the United States Embassy or Consulate in your area. The fee for application, which is non-refundable, varies according to location. If you're a manager, executive or an essential employee, rather than the pricipal investor, you'll need to also fill out form DS-156E.
All applicants require passports that enable travel to the United States, and must be valid for at least six months after your stay in the United States is complete. People arriving in the states under an E2 must be temporary visitors and capable of returning back to their own country when their business is completed. Depending on the nature of your case, you may be asked to provide additional documentation.
As you can see, the process to apply for an E2 visa is a costly and time-intensive undertaking with rules that aren't necessarily set in stone. Considering the stakes involved, contacting VisaPlace to arrange a consultation can help save a lot of time while ensuring that your investment doesn't go to waste.
Are You Interested in Applying for an E2 Visa?
When applying for an E2 visa, all the criteria must be met. With all of the paperwork and documentation required, it is easy to miss important details that can lead to a rejected application. Without any legal help, navigating through the complicated application process is frustrating and potentially fruitless. That's where we at Visaplace come in handy.
With over 15 years of experience of working with investors and traders, we know what the U.S. immigration department requires.  We have helped thousands and thousands of foreign nationals successfully enter the U.S. with E visas and we can help you too!
The first step towards a successful E-2 visa application is getting an assessment of your case. Fill out our free immigration assessment form and we will get back to you within 24 hours to discuss your eligibility and options.
The content and comments of this blog are not legal advise and and may not be accurate or complete. If you require legal advice, contact a licensed legal practitioner directly. If you post on this blog, you assume full responsibility for disclosing your identity to the public and VisaPlace nor its affiliates are not responsible for protecting your privacy nor your identity concerning your participation in our blog and you assume any risks in participating.
Customer Reviews
Here's my good advice; Lawyer up. ...and if your looking for a group of lawyers to help with your international affairs regarding visas and work permits; these professionals are top notch. I've had a great experience, they got the job done, and my job was very complicated. Rania Abboud, high five to you especially, you set up a great plan for success, replied to my questions very quickly, kept me informed and your very knowledgeable in your field. To everyone else at VisaPlace; Thank you as well. As a business owner myself I immediately recognized the way your team works so effectively! I wish you all the best of success. J.
The team at the Visa place as very thorough in the preparation of my application which I am sure made a difference. They guided the process well to a successful outcome. Would recommend them for sure.
I hired them for my study permit application! I had been denied twice and thanks to them the 3rd try was a success. Lisa Inspektor was my main contact. She is Very nice and polite. I strongly recommend you to go with them! The money you're gonna spend is gonna be worth it