Secrets to a Successful Canadian Visitor Visa Application 2019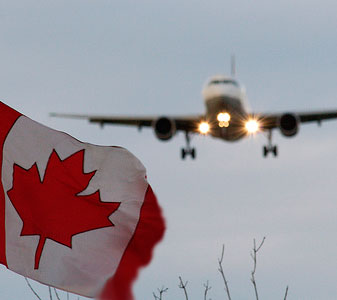 A lot of people who are applying for a Canadian visitor visa are nervous whether or not they will succeed. Will they get a visa? Will they get refused? After all, applying for a visitor visa can be nerve-wracking and confusing. To make matters a little easier, we will share some secrets to a successful visitor visa application.
What You Need to Know About Canadian Visitor Visas
When an immigration officer is processing a visa application, they usually have one big question in mind, "Will this applicant go back to their home country after they've finished their visit to Canada?". This is a main concern especially if the applicant is from developing or underdeveloped countries because many of the visitors from those countries don't want to go back.
Cover Letter for Canadian Visa Application
A cover letter is a key part of applying for a Canadian visitor visa. The cover letter for a Canadian visitor visa application should contain the following important pieces of information:
The purpose of travel to the destination
Explanation of how you will manage your travel expenses and proof of said funds
Describe source of income
Describe if you have any sponsor from Canada – explain your relationship with your sponsor and the reason for sponsorship
Give an overview of your flight itinerary, you should mention your flight schedule and also the schedule of your main planned activities in Canada
Explain why you chose this specific country (Canada)
If you are not submitting some documents, you should explain why are you not submitting that document and explain if you are providing any alternative document.
Explain what documents you are going to submit with your visa application.
Your intentions to return to your home country, you should make the visa officer believe that you will be back to your home country within the correct time.
What Is the Purpose of Travel?
Reasons for traveling include recreation, tourism or vacationing, research travel, the gathering of information, visiting people, volunteer travel for charity, migration to begin life somewhere else, religious pilgrimages and mission trips, business travel, trade, commuting, and other reasons, such as to obtain health benefits.
Provide compelling evidence as to why exactly you want to visit Canada. If it is a wedding, include a wedding invitation in your uploaded documents. If it is a funeral, include an obituary. Explain who you are and your relationship with the people you are visiting. If you are attending a conference, provide a copy of the invitation or if you are not invited, a copy of the program.
The most important factor is for you to show that your ties to your homeland is more important than your ties to Canada. That way you are telling CIC that you will return home because that is your home base, where you work and where most of your family is.
The narrative you create is all about you creating a picture that while you want to visit Canada, it is only for a short while because you cannot be away from home indefinitely. CIC needs to believe that you will actually return home and won't try to melt into the background in Canada.
Canadian Visitor Visa: How to Improve Your Application
So how do you convince the officer that you are a true visitor who will return to your home country? There are several factors that may help you to succeed. The first factor will be to show you have a strong establishment in your country. This includes your employment stability, any school attendance if that's applicable to you, and assets you own, and marital status, children and family, and any other responsibilities that require your return to your home country. The more you have to prove, the better chance you will have to convince the officer that you will return properly.
The second factor will be to be clear of the reason for your visit. You have to specify why you're visiting the country. Whether it's a family celebration or family emergency or work-related matter or pleasure visit, you have to make your reason clear. You can include your accommodation arrangement, invitation letter, and documents such as arranged registration to validate your client. Rule of thumb, try to include as much proof as possible.
Factor three will be your financial arrangement. If there is no proof of sufficient funds for your visit, unfortunately, your application is likely to get refused. Therefore, you should show sufficient funds available for your trip, no matter who's covering the cost.
Now, once you come to Canada, if you decide to stay longer there may be options. Consult with an immigration professional for help. I hope your application is successful and your visit is enjoyable. If you liked my video please click like and subscribe for more Canadian immigration videos. Thank you.
Below we have provided a list, to sum up the positive and negative aspects in assessing an application:
Positive Factors:
The following factors are positive aspects in assessing an application:
citizen in his/her country of usual residence;
country of usual residence is politically stable;
stable, well-paid employment (proof is required in the form of a letter from the employer stating salary, position, date when employment commenced and vacation granted);
spouse and/or children not accompanying applicant;
owner of a substantial business (registration of business and, if necessary, financial statements);
good financial situation (as proved by bank statements);
previous trips to Canada;
previous trips to countries as attractive to illegals as Canada (United States, France, United Kingdom, etc.);
property in the country of usual residence;
host (particularly in family visit cases) with legal status in Canada (citizen, permanent resident, a student with student authorization, etc.)
Negative Factors
The following factors are negative aspects in assessing an application:
host remained in Canada on a visitor visa or student authorization or entered illegally (based on the record of landing or previous files) — experience shows that where the host has already abused the system, it is highly likely that his/her guests will do the same;
unmarried (particularly if young and chances of successful establishment in the country of usual residence are poor);
poor financial situation;
poorly paid employment, or unemployed;
the host is a friend or distant family member with whom the applicant has had little contact;
no previous travel abroad;
has previously been denied a visitor visa (or student or employment authorization);
has been denied a visa by another country;
owns no property;
wants to visit his/her fiance' or spouse who is residing in Canada;
listed in FOSS (national immigration database containing entries on all applicants who have violated the Act or regarding whom a report has been written).
How Do I Know if My Canadian Visitor Visa Was Approved?
Your application will be checked to make sure you have all the documents you need. If it's incomplete,  your application will be returned without processing it.
The IRCC may also ask you to:
Most applications are processed in a few weeks or less. Processing times depend on the visa office and if you need to do any extra steps (listed above).
Your passport will be returned and other original documents to you after we process your application. Your original bank statements or any documents found to be fake will be returned.
If your application is approved, the visa will be stamped inside your passport.
If your application is refused,  you will receive an explanation.
Refusal Rate for Canadian Visitor Visa
In 2017, nearly 600,000 people were refused visitor visas for short stays in Canada. The number of refusals totals more than 25% of all visitor visa applications received in 2017. Applicants from countries with less political and economic security risk a much higher chance of refusal. In fact, many African and Middle Eastern countries face a refusal rate of more than 75% of visitor visa applications.
The implications of these refusal rates can be seen in conferences where speakers and presenters are unable to attend, as well as in families who are unable to connect and visit in Canada. With refusal rates topping 30% in the first quarter of 2018, Canadian immigration officials are feeling pressure to redefine the system of visitor visa applications to create a fairer set of conditions.
Are You Interested in Applying for a Canadian Visitor Visa? 
While the procedures for applying for a Canadian visitor visa may seem uncomplicated, some applicants apply without seeking any help from an immigration lawyer, thinking that they can do it themselves. For Canadian visitor visa applications, there is actually a higher risk of refusal in cases where the application is not properly prepared. Therefore, your best bet would be to hire an immigration professional. We at VisaPlace have helped thousands of people successfully visit Canada on a visitor visa and we can help you too.
Getting started is easy.  Just fill out our FREE immigration assessment form here and we'll get back to you (within 24 hours) to discuss your eligibility and options.
The content and comments of this blog are not legal advise and and may not be accurate or complete. If you require legal advice, contact a licensed legal practitioner directly. If you post on this blog, you assume full responsibility for disclosing your identity to the public and VisaPlace nor its affiliates are not responsible for protecting your privacy nor your identity concerning your participation in our blog and you assume any risks in participating.
Customer Reviews
I could not have asked for more! The VisaPlace team are extremely professional, they know their stuff. They gave me great information, prepared my work visa application and then prepared me for the submission process. I was successful. Got my visa. 5 stars! I would give them 6 if I could.
This is not an exaggeration!!! I was truly impressed with the way VisaPlace consultants handled my case. The consultants- Emily, Lauren, Takunda and Lisa, took their time to explain to me in great deal how they were going to approach my case and how they would handle setbacks, if any. Their professionalism and knowledge of the law were superb. The minor setback that came up was quickly addressed by the team. The team constantly kept me updated on the progress/status of my application; they quickly responded to my questions/concerns. They had predicated my permanent residency to be processed within 6 -12, and Indeed it was processed and completed within 6 months. Based on my personal experience, Emily and Lauren's team are the best! They deserve 5 stars!!!!!!!!!!!
VisaPlace helped me sponsor my husband to become a Permanent Resident of Canada. They were extremely professional. Every step along the way was explained fully and expertly taken care of. The staff responded immediately to any questions and always handled our concerns fully, taking as much time as we needed to understand where we were at in the immigration process and what to expect next. I would recommend VisaPlace with no hesitation at all. I'm sure if we had tried to navigate the immigration process ourselves, it would have been much harder.