4 Surprising Reasons You'll Be Denied Entry to Canada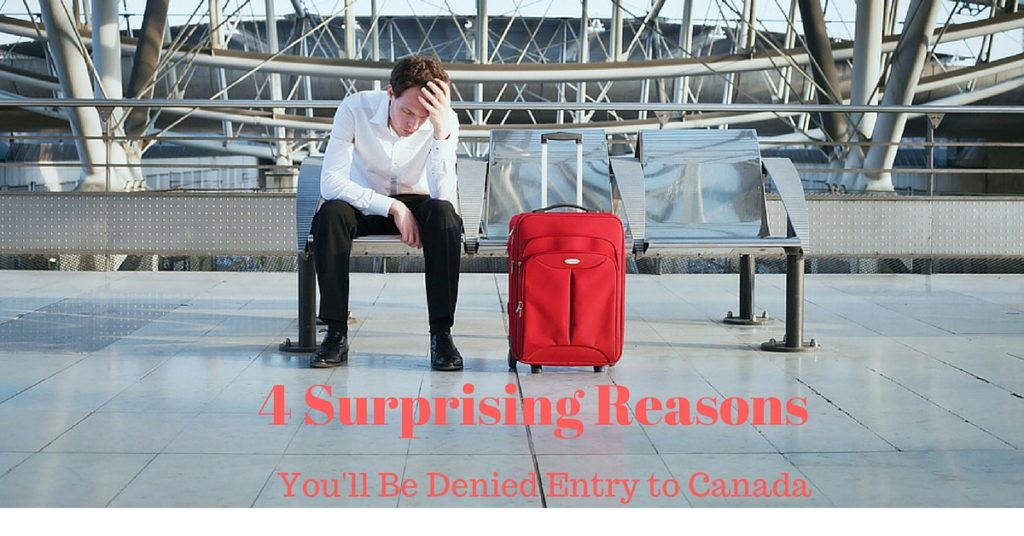 Espionage, terrorism, and crimes against humanity seem like obvious reasons you've been denied entry to Canada. And many of Canada's reasons for inadmissibility, as outlined on the government of Canada's website, are very straightforward. But some can come as a surprise to those who don't know all of the rules.
Here are 3 surprising things that could cause you to be denied entry to Canada:
1. Just Visiting
Since not everyone has to get one, you may not realise that you need an Electronic Travel Authorization (eTA) or a visitor visa to enter Canada temporarily. This has become especially significant recently, as a new entry requirement requires most visa-exempt foreign nationals to have an eTA. But depending on where you are coming from, you may need one of these documents even if you are just coming to Canada for a short trip.
The government of Canada has a list of the countries whose citizens require either an eTA or a visa to visit the country. This is a case-specific issue that can be remedied by getting one of the required documents. The next two circumstances can be more complex.
2.  The Company You Keep
In some circumstances, you don't have to be the one who is inadmissible. The government of Canada's website explains that sometimes it's enough to be travelling with someone who isn't admissible or to have an inadmissible family member–they may not even need to be with you to prevent you from entering the country. Since you probably do not know the full criminal, social, and medical history of your entire family or the people you travel with, denial by proxy can be surprising and confusing.
3. Minor Criminal History
While serious crimes could seem like clear causes for concern, a youthful marijuana charge or something similar could be an unexpected barrier to entry. If you were 18 or older when you were convicted, even a minor offense could pose a problem. "[H]aving been convicted of a crime" is on the Canadian government's list of reasons for inadmissibility and could result in you being "denied a visa, or an Electronic Travel Authorization (eTA), refused entry to, or removed from Canada."
4. Every Little Thing: Immigration and Refugee Protection Act (IRPA) Violations
Even bending the rules can put entry into Canada or your status in jeopardy. It can understandably not seem like such a big deal at the time to add a few extra days to your trip or work a little part-time to support yourself while you are here, but even small violations of the rules can cause big problems. These violations can make your activities in general seem suspicious or indicate a potential for bigger problems down the road, even if you meant no harm. And if you're trying to return to Canada, that unplanned day trip to Niagara on the Lake could prove not to be worth it.
What Are Your Options if You Are Deemed Inadmissible?
If you are denied entry to Canada because of inadmissibility, there are things you can do. Your next steps will depend on several factors, including the proposed length of your stay and the severity and complexity of the cause for your inadmissibility. Criminal inadmissibility can sometimes be overcome if you can be deemed rehabilitated or you succeed in applying for individual rehabilitation.
You may also be able to enter Canada with a temporary resident permit. In some cases, you may require an ARC (Authorization to Return to Canada). According to the Canadian government's guide to ARCs, whether you need one depends on the type of removal order you've received.
An immigration legal professional could also be valuable in helping you determine the best route to future admissibility. Just as the reasons you were deemed inadmissible might have been surprising, you may encounter unexpected roadblocks along the way to gaining admissibility. An immigration legal professional can give you  a better idea of your chances of entering the country and help you navigate the path to admissibility.
Their assistance could range from dealing with paperwork to plotting out a step-by-step process for changing your status. Every situation is unique, and in some circumstance, the knowledge an immigration legal professional has of the law and the system surroundings it could prove to be priceless.
Need Help Dealing with an Inadmissibility?
Are you interested in immigrating to the U.S. or moving to Canada? Contact VisaPlace today.
All our cases are handled by competent and experienced immigration professionals who are affiliated with VisaPlace. These professionals consist of lawyers, licensed paralegals and consultants who work for Niren and Associates an award winning immigration firm that adheres to the highest standards of client service.
Click here to book a consultation with an immigration professional or fill out our FREE assessment and we will get back to you within 24 hours.
The content and comments of this blog are not legal advise and and may not be accurate or complete. If you require legal advice, contact a licensed legal practitioner directly. If you post on this blog, you assume full responsibility for disclosing your identity to the public and VisaPlace nor its affiliates are not responsible for protecting your privacy nor your identity concerning your participation in our blog and you assume any risks in participating.
Customer Reviews
Spectacular experience. Completely smooth process, they were able to answer any of my questions any time and I had peace of mind throughout the application time, which was invaluable. I have recommended them to other friends looking for assistance with their applications, and will continue to do so. Worth every penny.
Here, I would like to say thank you so very much for your kind support on extension my visit visa. I am touched and beyond words, I am grateful and thankful for your always help and cooperation. Have a wonderful day.
Great law firm with great staff. My lawyer Rania did a great job for my Canadian work permit and my daughters study permit. You are great in your work. And my Para Legal officer Alicea, you are just amazing. They did not rest until my job was promptly and properly done. Always there to answer my calls, reply my emails promptly. She tried her best and the results were amazing. I recommend visa place if you need the best immigration job. Many thanks to Rania and Alicea.