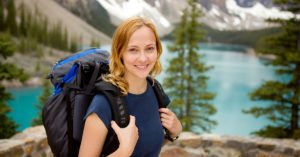 The Government of Canada has introduced a new mandatory travel requirement for the majority of persons arriving in Canada by air.
Applications are open now and beginning on March 15, 2016, visitors to Canada arriving by air (including those merely traveling through) will be required to have an Electronic Travel Authorization (eTA) from the Government of Canada. Failure to have an approved eTA will result in being denied entry at the border.
The Government is clear that "most travelers" entering Canada will need an eTA but the inclusion of all European Union and Commonwealth Nations may be a shock to some. In fact, the only exceptions appear to be for United States citizens (who will continue to require the same documents as before) and those travelers who require a visa to enter the country.
Canada Travel Fees
A service fee of $7 CAD will be charged at the time of application (making access to a credit card a de-facto requirement for travel to Canada) and the approved eTA will be valid for 5 years or until the expiry of the traveler's visa, whichever comes first.
The Electronic Travel Authorization is designed to replace the practice of on-the-spot assessment by Canadian Border Services agents at the moment of a visitors arrival in Canada, streamlining the entry process at airports as well as bringing Canadian travel security measures more in-line with those of the United States.
Previous Arrests or Convictions
Along with detailed passport information, travelers can expect to be asked whether they have ever been arrested for any reason in any country, if they have ever been denied entry or asked to leave any country and if they are receiving regular, ongoing medical treatment for any mental or physical condition. Failure to provide details may result in slower processing, the Government warns.
Head to the Government of Canada's Electronic Travel Authorization page to find out more about the program or click here to determine if your country is on the list of those required to have an eTA in the near future. Most will be and so our advice is to apply early and avoid any interruptions to your next trip to or through Canada.
Get Expert Guidance with Your Application
Knowing the difference between the two types of visa applications is the first step to a successful application. Contacting experienced legal representatives from firms such as VisaPlace helps to ensure that, as an American might say, you have all of your bases covered.
To get started, simply fill out our free immigration assessment form and we will get back to you within 24 hours.