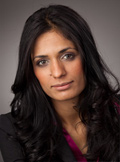 Shabnam Akrami, B.A. (HONS.), M.A., LL.B.
Systems Immigration Director
Shabnam Akrami received her LL.B from University of London. She graduated from York University where she received both her Bachelor in Criminology and Masters in Socio-Legal Studies. In addition she completed with Honours a Post Graduate Diploma from Seneca College.
Prior to joining the team, she gained extensive experience in corporate immigration law specializing in work permits, temporary resident permit and rehabilitation cases. Shabnam assists Michael Niren in all Canadian immigration and citizenship matters, including the preparation and submission of applications for permanent residence, work permits, NAFTA applications, labour market opinions, temporary resident permits, sponsorships, and business investors. She also regularly makes submissions to embassies, consulates, high commissions and visa posts, as well as ports of entry and inland immigration processing centers.